Happy, Happy Day!
It's time to both give and receive some Pin'inspiration! 
Thank you so much for being here and sharing with myself (Adventuresindinner), Micki (ADD Housewife) and Marilyn (ArtsyGirlConnections). 
We totally, totally appreciate your efforts and each week we are beyond wowed with what you do!
A few of the projects that we found especially fantastic were….(remember to grab a nifty button if you were featured C:)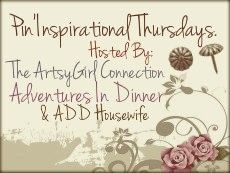 I totally love these easy and tasty looking teatime treats by Ethereal Plus What I Love
This gorgeous top was a total winner by Tousled Day.
And how about this fabulously refurbished table by The Decorating Chica. 
Don't you love when an existing piece is given a new life?