>>>>>>><<<<<<
Happy 
Pin'Inspirational 
           Thursday
>>>>>><<<<<<
Thanks to all who stopped in and linked last week! 
SO much to see! We *Appreciate YOU! 
Before I jump into all the inspiring featured that rocked and blew us away last 
week, I wanted to quickly share a little project with you coming up this winter!
Sign up's start asap, so don't miss out on a fun chance to spread some 
Christmas cheer with a bloggy bff. You can spring ahead and 
join 
ahead by filling out this lovely form HERE.. 
"Oh Jolly Heart~ Santa's
Sleigh Is Close Ahead"
>>>>>>>>>>>>>>>>>>>>>>>
Oh My – This Simply INSPIRES me VOLUMES!
<<<<<<<<<<<<<<<<<<<<<<<<<<<<<<<<<
Totally digging this jar art.. It's amazing how easily you can turn a simple jar to
an artwork worth volumes.. This is simply beautiful.. 
<<<<<<<<<<<<<<<<<<<<<<<<<<<<
Love Birds & Ornaments = Perfect Inspirational Picture
I am in love with the beautiful idea featured via 
ornament with 
so many prescious held moments.. L oV e!
>>>>>>>>>>>>>>>>>>>>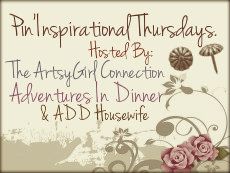 Hope you are all as inspired
as we are by these wonderful and 
creative links.. 
So much was shared and SO much more to come today.. 
♥ Please visit at least two other links and leave some comment love! 
♥If you love comments, make sure you have captcha/word verification turned off!
♥Please don't link up your etsy store or giveaway.
♥Spread the word about the party! The more the merrier!
That means link up the party via our button or a text link.
LETS  P A R T A A A A A A Y!!!